I went to walmart for a quick run. I needed something to cook for lunch and since I already had sauce and meat I went for a pack of pasta. I went to the self check out and this EXTREMELY RUDE lady...no i won't even be nice enough to call her a lady, that shrew, invaded my personal space.
I'll admit i've had my personal space violated MANY times at Walmart by fellow customers that don't know about personal space and tend to stand right beside me or have their buggies push up to me. Quick side note: that will not make me move fast. If anything that will piss me off more and make me take my sweet a** time.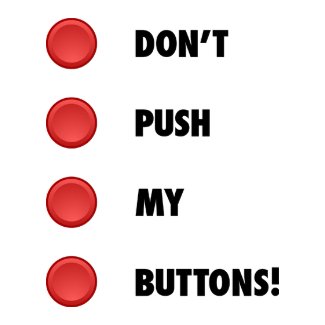 No, but this lady went above and beyond the personal space breaking point. She Pushed my buttons. Jodi checked out before me and I had to wait for the computer to go back to the front page screen. There is nothing I can do but wait, it does it on it's own. She gets really close to me and says "WHAT'S WRONG!!??" "um it's going back to the main screen"
It finally goes back and I scan my one item (know she has a full buggie which she is starting to unload). I'm getting my money out and she asks me "ARE YOU DONE??" I can't do anything but stare at her because at this point i'm so taken aback by her rudeness I don't know what to say. Then she does it!!! She pushes the payment button.... Um excuse me maybe i wasn't done, maybe I was thinking about buying some gum(i don't chew gum but it pissed me off that she pressed the button) that was not her choice to make.
UM EXCUSE ME IT IS MY TURN AT THE MACHINE WHEN IM F'ING DONE YOU CAN DO WHAT THE HELL YOU WANT BUT UNTIL THEN IT'S MINE!!!
She gets fed up with waiting on me even though i'm only taking a second (one item). She pulls her buggie to another one..and then a man comes up again violates my space and begins to unload his items on the little tray thing.
I am completely pissed off at how rude people can be. DON'T touch my buttons when i'm checking out, i'm smart enough to press them myself!! GEEZ!
BACK OFF PEOPLE, arm length apart rule!